Astro Rocket is most addictive space action game.
You are Rocket Pilot! You continue to avoid all meteorite, this is your mission!
Meteorite's speed is up whenever Level is up. This is growing more and more tense.
1 Level is 1 minute, so you can play this space action game in short free time.
If you tap Resume button, you can play from last Level.
For iPhone, iPod touch, iPad(compatible).
You can operate Rocket by tilting your device as like iOS app.
Getting Bonus item(Barrier, Booster) help you to do well upping speed.
This is only avoiding game. But when you use Barrier, this is changed image radically.
You can  intentionally attack to meteorite. If you do this, you can get double point.
And you can use booster too, so you can attack more aggressive.
But you must remember that Bonus item's life is 30 seconds only.
You can use easily Bonus items. If you tap upper of display, you can use Barrier. And if you tap lower of display, you can use Booster.
If you hold gotten Bonus items, you can get bonus points at Level Up.
Let's run through each Levels by using bonus items cleverly!
Astro Rocket start very low speed so everyone enjoy this!
And If you reach 10 Level, Astro Rocket is very fast speed! You have to try your best!
I think gamer and non game can play long time this game.
Can you go what level, get how many points? Enjoy your addictive adventure!
If you have some ideas, some wishes or some question, please send mail to this address<hidenoridev@therootage.com>.
Astro Rcket Help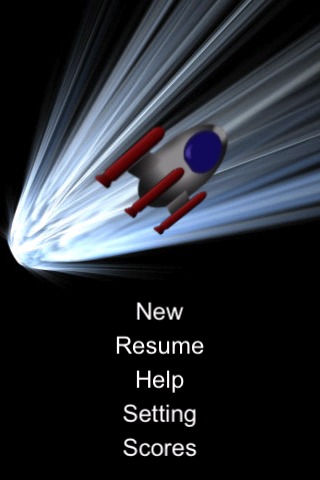 At first, input your name for scores.
New
Start game from beginning
Resume
Start game from last ending
Help
Setting
Scores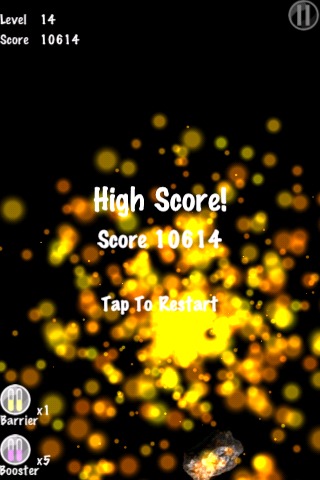 Explain with help pages from now.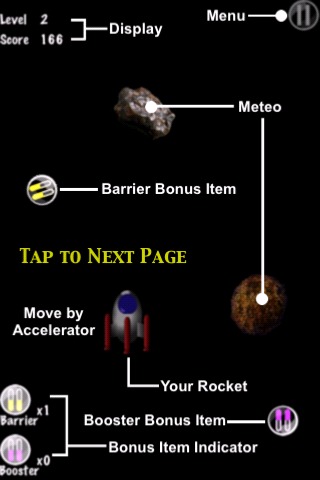 You can go back to Title by tapping Menu button.
You can move your Rocket by tilting your device.
Meteo is meteorite. You need to avoid all Meteo (if you don't use Barrier).
When you get capsule of Bonus Item (Barrier, Booster), increase points.
Meteorite's speed is up whenever Level is up. And meteo count increase.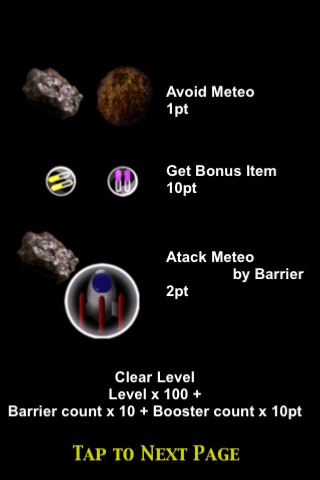 About point system:
When you avoid meteo completely, 1pt.
When you get bonus item, 10pt.
When you attack meteo using Barrier, 2pt.
When you clear Level, Level clear bonus pt & retained bonus item count point.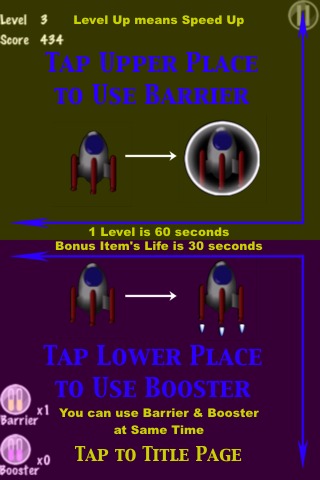 You can use Barrier by tapping upper place of display.
You can use Booster by tapping lower place of display.
Each Bonus item's life is 30 seconds.
You can use Barrier & Booster at Same Time.