Shippo's "Kappa Theater" app is coming out! It has been popular since she had uploaded to MySpace when it was the biggest social network at the time.
Kappa Theater is the irregular serial story that is the part of the so-called a Blog, and the story goes on in the Ameba Blog. You can see the story from the first episode to the newest episode. (As soon as the newest episode comes out) And you can read in Japanese and in English too!
Kappa Theater is Universal App. So it works on iPhone, iPod touch and iPad natively.
Download from here.

When you hold the device in a portrait mode, you can read the story like a Blog. And when you hold the device in a landscape mode, you can read it as a picture book!
The user interface is very sophisticated design, and You'll get used to it soon.
In advance, you can read 10 episodes, and you can download each episode (the episodes are 320 over) which you want to.
This app makes people of all ages smile, and it's free.
Advanced Option :
When you'll buy this low price add-on, you can download the original picture(the big size) when you'll press and hold the picture.
The original picture is very high quality, so you can use it for the big screen's wallpaper.
For further details, see below
—
Kappa Theater :
"Hey, Shippo san" Kappa chan and his friends said to me. They were very innocent and cute, so I uploaded to MySpace to introduce them. I've been shown their daily life with their photos and words.
Kappa chan and his friends failed, and they mean no harm. When Kappa chan and his friends do something bad, they apologize. Every Kappa chan has his own color. Everyone is different. They are friends even if everyone has their own thing. Everyone is different, but they're friends and amazing. If they are same, we cannot recognize each of them.
Kappa is a yokai (it's a class of supernatural monster) found in Japanese folklore, and also a cryptic. the features are a carapace, webbed hands and feet, a plate (sara), which is a flat hairless region on top of their head that is always wet, and which is regarded as the source of their power. Their favorite food is cucumbers. There are many people who resembles Kappa. I wonder if Kappas blend to human lives they don't even realize themselves.
—
About Author "Shippo" : written in August 2013
Japanese stuffed animals maker of gloves
She was born in Akita prefecture and currently lives in Tokyo.
From around 1994, she made stuffed animals (and puppet shows).
The stuffed animals made by her had displayed centered at the library annex.(the puppet shows have closed)
In the library annex, she has read picture books and taught craft works to children. She teaches making flannel graphs, toy theaters, hands play, and has lately taught magic.
10 years before, Families Children Support Center was formed. She took this opportunity to provide volunteer work for raising children. She makes happy hand made toys security and safety.In Families Children Support Center, a lot of animal puppets made of color gloves and made toys are there.
She loves smile.
Her conviction is based on the volunteer work for raising children. She told that she would go on working as the volunteer for raising children as long as she had good health no matter how busy she was. Also she said "Smiles of babies, kids, mums are really cute!!"
From 2010, her works continues to gain a very good reputation at the varieties of exhibitions all over Japan. And you can see and buy the dolls at the online shop "Vitamin Tee". (Currently dormant)
If you have some ideas, some wishes or some question, please send mail to this address<hidenoridev@therootage.com>.
Help
Menu View
The stories are in line. And at the top, 2 buttons are there.
The left "Order button" allows you to change order ascending / descending.
There is "Info button" at the right side. If you tap "Info button", Info View will appear. After we'll explain about this view. You can exit this Info View by tapping outside of this.
Ascending. It is like picture book!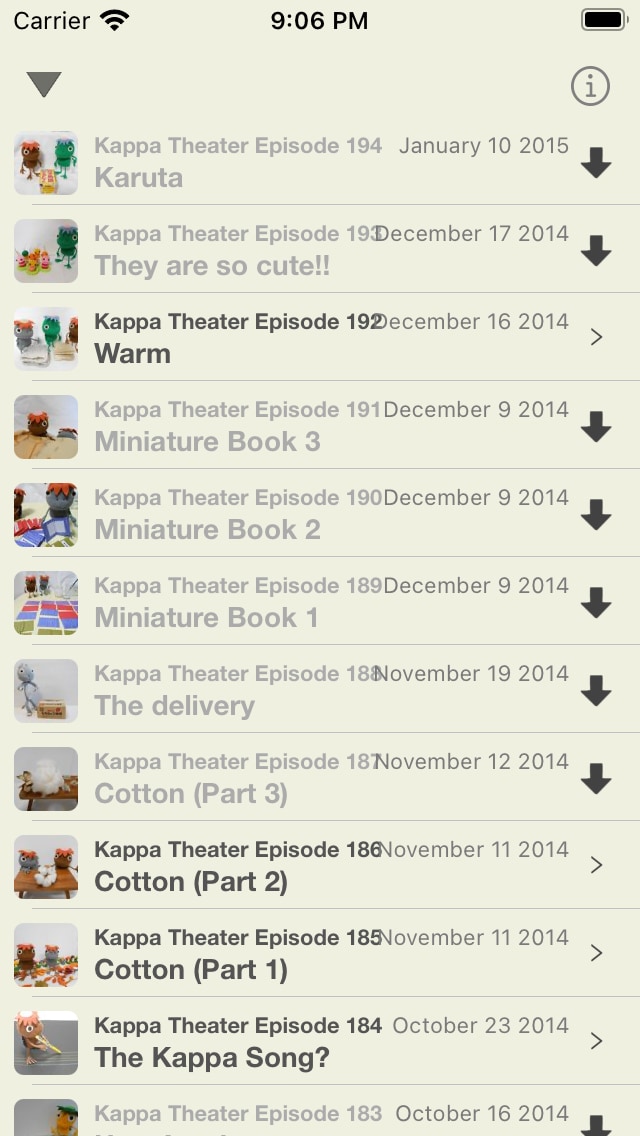 Descending. It's like a blog page.
In advance, the first 10 episodes are included, and you can download each episode ( the episodes are 320 over) which you want to by tapping right "Download button".
You can see the each content by tapping each cell.
When you'll set the app foreground, it'll check new story automatically.
Only 1st time, you need to wait a long time for getting all story's list from the web. The reason is that only 10 stories in your app first time, but now we have 320 stories and more on webs. But after 2nd time it'll take a bit time that it just check the new stories.
If you tap and hold the episode, you can delete downloaded pictures in the story. you can save spaces in you device temporarily. In addition, you can also delete at once all the episode from the Info View. You can download deleted episodes again, so please don't worry.
Contents View
You can read the each story.
In Portrait mode, you can scroll and read like a Blog.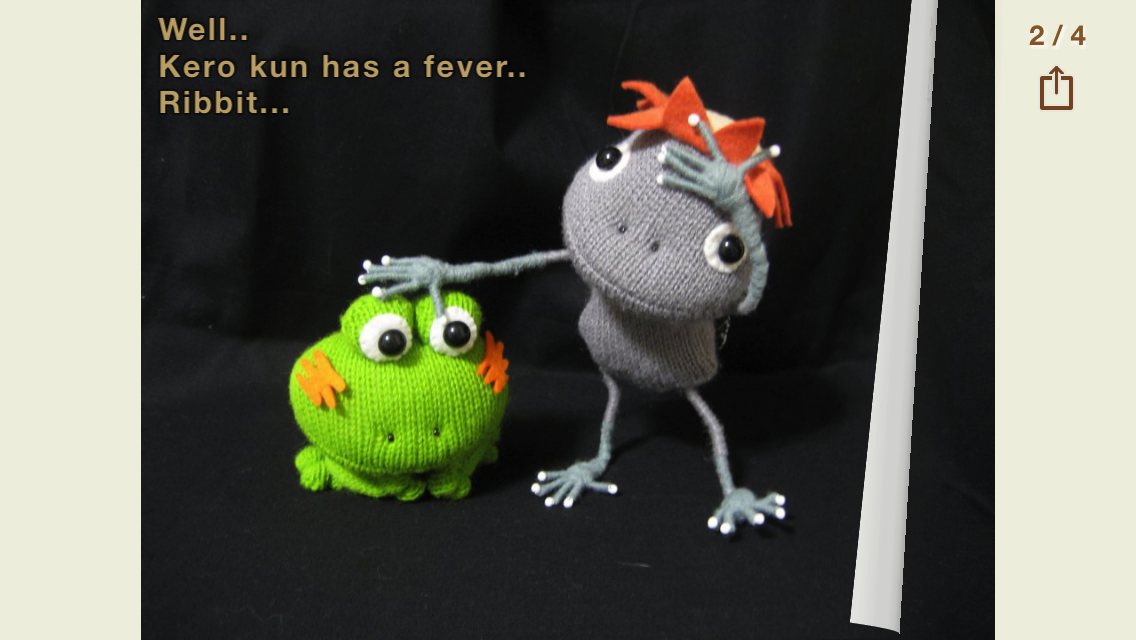 In Landscape mode, you can turn the pages like a picture book and you can move pages when you'll tap the end of the right/left side smoothly.
And there are Page Number and Tweet Button at right top. If you tap Tweet Button, you can tweet with a picture!
In Portrait mode and Landscape mode, when you'll tap the screen Navigation Bar shows the upper side, so you can back to the menu and back to the first page.
Info View
This view will supply various informations.
You can exit this view when you tap the outside of this view.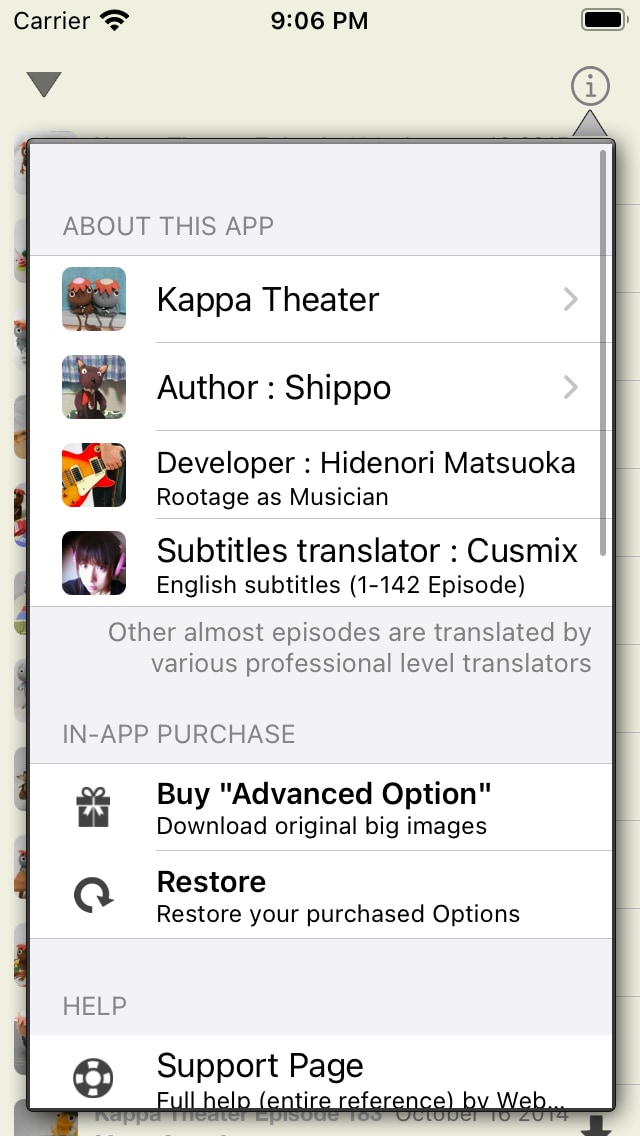 About This App
Kappa Theater
Author : Shippo
Developer : Hidenori Matsuoka

The introduction of iOS app opens in Safari.

Subtitles translator : Cusmix

The twitter account opens in Safari.
The 143 episode later has been translated into English by various professional level translator.
In-App Purchase
Advanced Option

When you tap Tweet button, you can download each original big picture and save in your camera roll.

Restore

You can restore the purchased option in this app.
※ if you'll show the display of the re-purchase, you'll should be feel at ease, normally you'll not purchase twice.
Help
Support Page

You can see the support page in Safari.

Mail

You can send mails to the developer.
If you have some ideas, some wishes or some question, please send mail. And if you have some impressions of these stories, please send mail. I'll send your message to author or translator.

Rate This App in App Store

Open Kappa Theater's page in App Store. You can rate this app and review one for next download people.
If you have any troubles about this app, please send mail instead of this function. Because we need detail informations for resolving those problems.

Delete All Downloaded Contents

If you tap this, you can delete all downloaded contents. You can save space by this operation. This is useful when you want to increase the amount of free space temporarily your device. Of course, if you download them again, you can enjoy the episodes as before.
Setting
Go to last page

When it is displayed in landscape mode, whether to move to a read last page.
Screenshots of iPad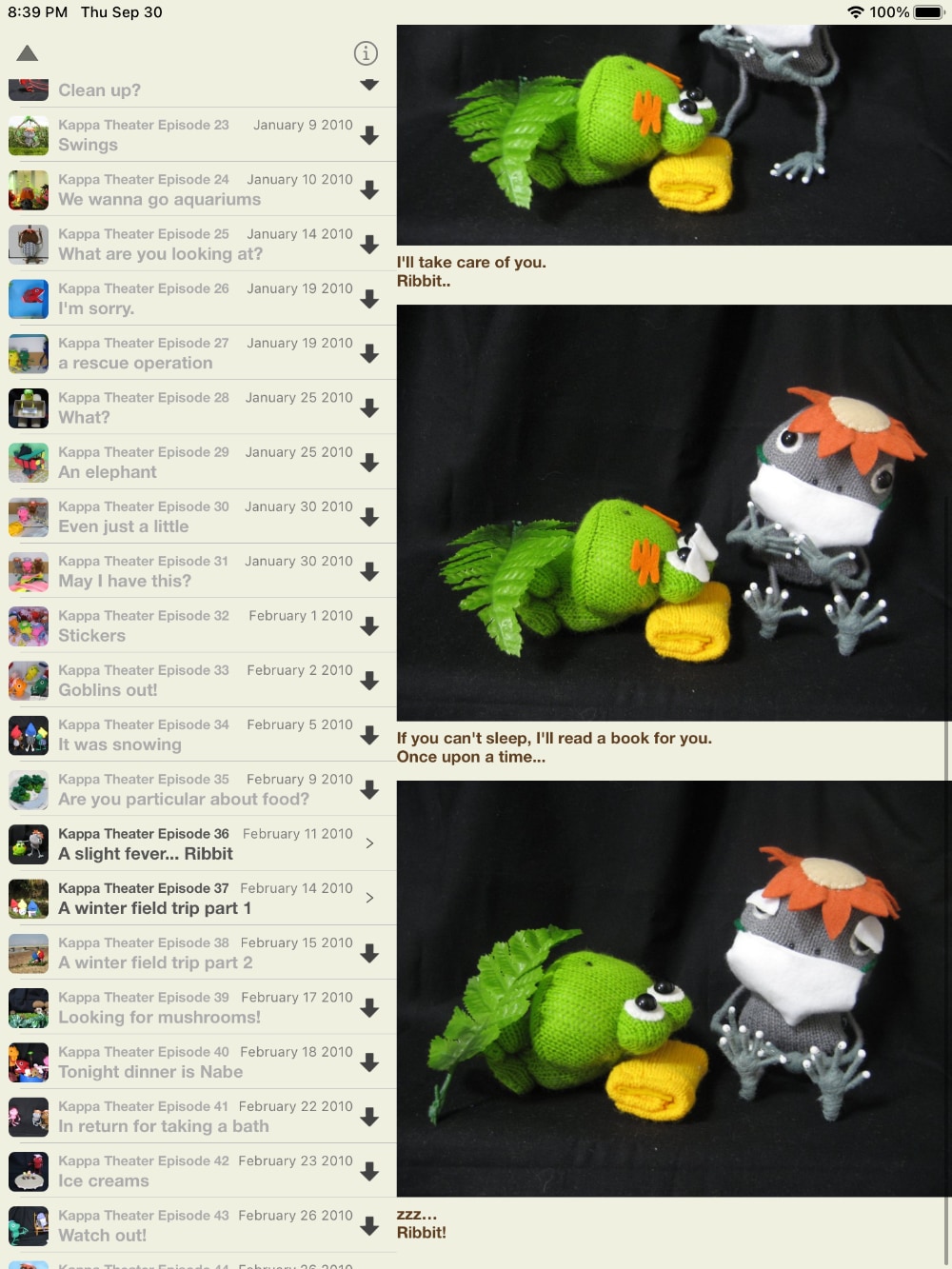 In iPads with Portrait mode, the menu shows always.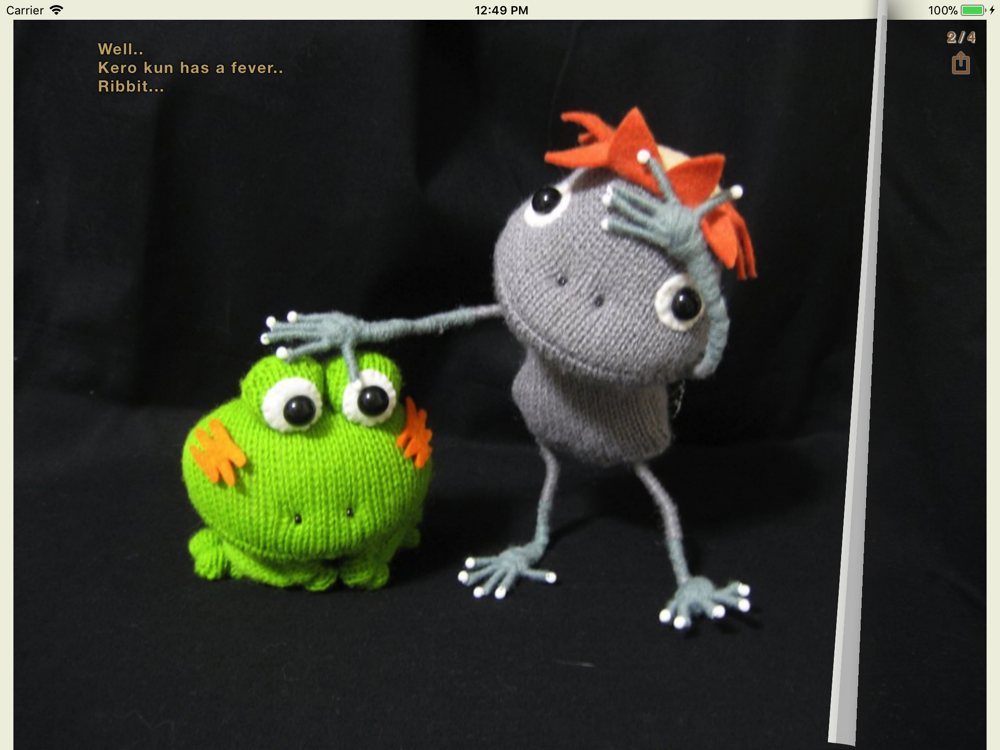 In iPads it's really big display like a picture book.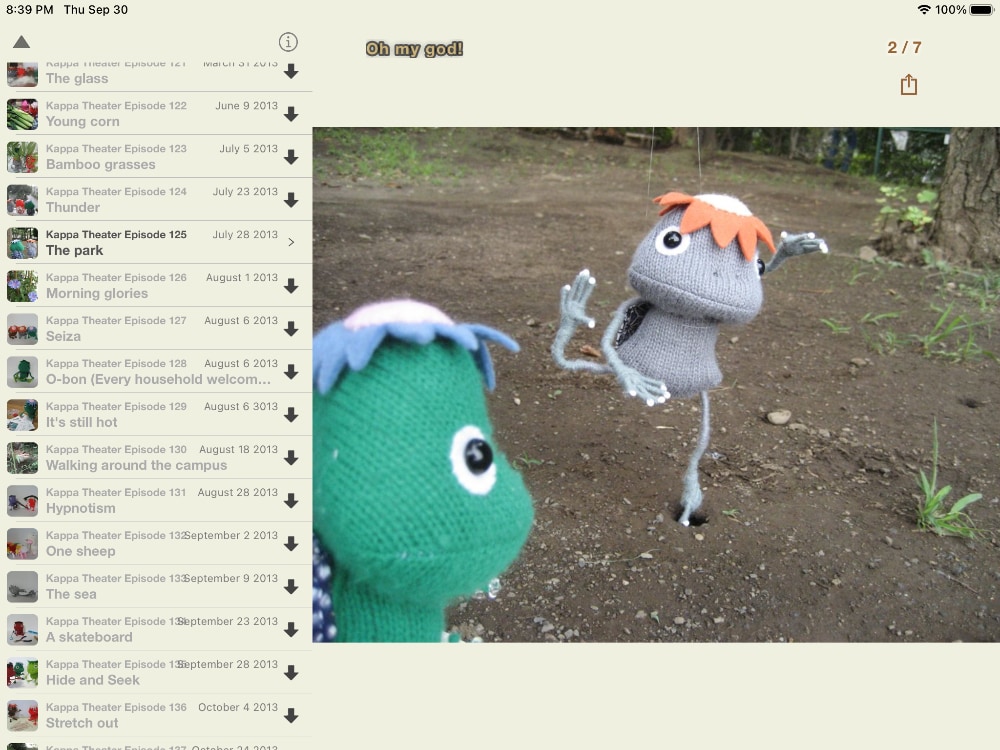 In iPads if you tap the center of picture, Menu View displays directly instead of displaying Navigation Bar.

Troubleshooting
About the dialog for accessing to your photos
Sometimes OS shows you a dialog that ask you if you'll permit to access to photos.
Kappa theater has special gift for Advanced Option that could be downloaded big size images.
Those downloaded images will be saved to Camera Roll. You should permit the access to photos when you use this function.
If you denied this but after you want to use this function, you should set by "Settings" app.
Privacy > Photos
Tap enable Kappa Theater.
Kappa Theater only has the ability to add downloaded photos to Photos app. You are assured that Kappa Theater never see any your photos.
Change the display language
Kappa Theater allows you to show Japanese and English texts.
If Kappa Theater show the language you don't expect, you can change by "Settings" app.
General > Language and Region
You can change your primal language.