PET Bottling is a real percussion exactly.
PET Bottling is a real percussion instrument using the PET bottle.
You can play an acoustic instrument as like real PET bottle. And you can play 624 each sounds recorded from only one PET bottle.
If you are professional, you can play on live performance stage or use at recording studio.
If you are beginner, you are amazed to hear various sounds by tapping!
If you use some techniques, you can show a unique performance that goes beyond the real bottle.
And you can keep your sound forever by recording function.
Also you can use music you have played on PET Bottling for your song.
For iPhone, iPod touch, iPad (Universal App).
Download from here.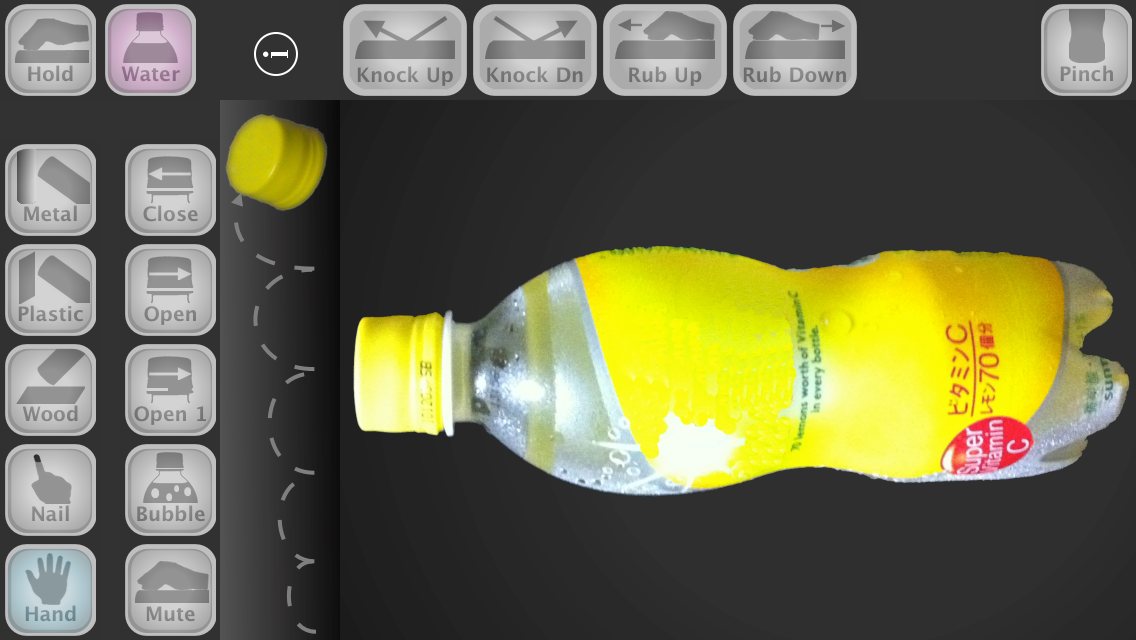 Water in the bottle or not. Only tap or tap & stay(mute).
About these each MODE, you can select Tapping Object – tapping by Hand, tapping by Nail, attacking on Wood, attacking on Plastic, attacking on Metal.
And about these all, Sounds are changed by tapping place on screen… Cap, Upper, Middle, Lower, Bottom. And if you tap upper place on screen, you can play big tapping tone.
And more you can play following option sounds. Falling cap sound, mute noise by hand, soda bubble noise, opening or closing cap sound, pinch the bottle, knocking up or down sound, rubbing up or down sound.
If you select Water MODE and tilt left, right, upper or lower, you can play various water noise.
If PET Bottling is frontmost app, you can avoid auto sleep. It's very useful for playing only a part of long music.
All sounds are quickly played and you can watch feedback image on the screen so you can feel real playing.
I believe all people fun playing this real instrument!
And recording function is very easy. Just tap " i " button to show.
Tap Red button to record and tap Blue button to play.
PET Bottling doesn't mute background app's sound from the beginning. Therefore, you can record while listening to the song you are making.
You can pass the wav file you recorded to your favorite storage or app with Export button.
Importing your performance to music production app. Passing it to someone. A generic wav file will never be lost in the future.
Just you have to avoid tapping " i " button when playing. Really you can focus on your performance.
Are you ready? Let's play wonderful music!
– Feature –
Super high quality recorded & edited 24-bit sounds.
Modern high quality 32-bit float Sound Engine.
624 various & rich tones.
Very quickly response for playing as real percussion.
Visible feedback for feeling of tapping.
Intuitive & smooth user interface.
Avoid auto sleep even if you don't touch.
Don't stop background app's sound.
Excellent recording function that is simple and does not disturb your play.
Please check 1 minute Introduction movie.
If you have some ideas, some wishes or some question, please send mail to this address <hidenoridev@therootage.com>.
PET Bottling Help
Table of Contents
Main View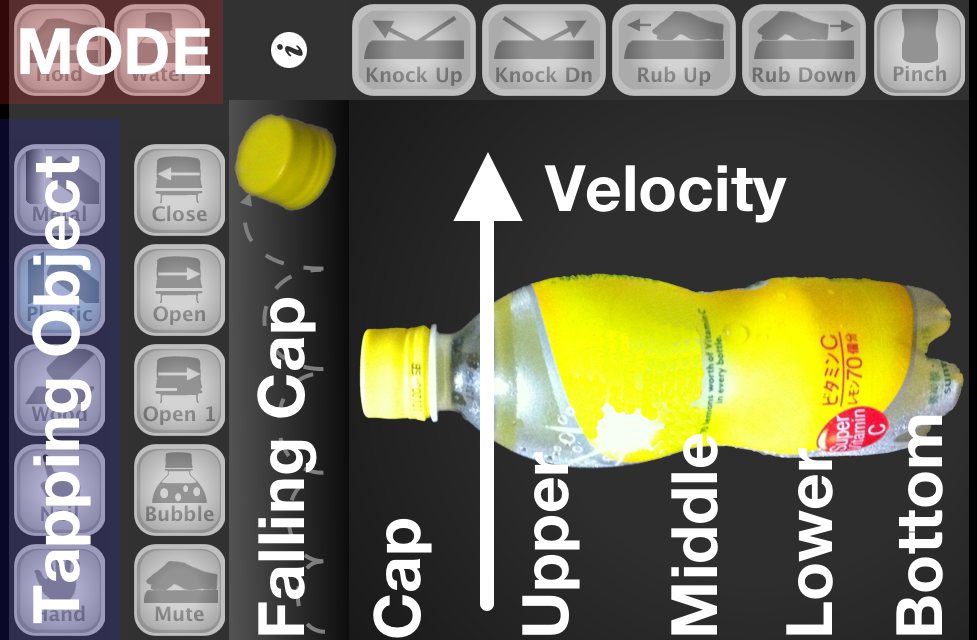 MODE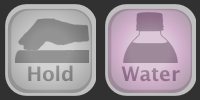 Hold : Tap and Stay(Mute). You press harder than normal tap for muting, so tone and sound volume is changed. Some samples include slight noises (hand quickly and shortly touch with PET bottle) for muting by hand.
Water : Water in the bottle. Sounds are changed a little and added water noise.
If you turn on this mode, you can play 4 different water noise by tilt left, right or upper, lower.
Only 2 buttons can be expressed following 4 states.
When "water is in the bottle", you "tap" or "tap & hold" the bottle.
When"water is not in the bottle", you"tap" or "tap & hold" the bottle.
Tapping Object

Hand : Tapping by Hand.
Nail : Tapping by Nail.
Wood : Attacking on Wood.
Plastic : Attacking on Plastic.
Metal : Attacking on Metal.
You can change "Tapping Object" by tapping. And also you can change quickly it by sliding your finger.
By the way, Wood, Plastic and Metal are placed wobbly not stable location and those are swing frequently. So sometimes those sounds include unexpected reflected sounds or vibration sounds.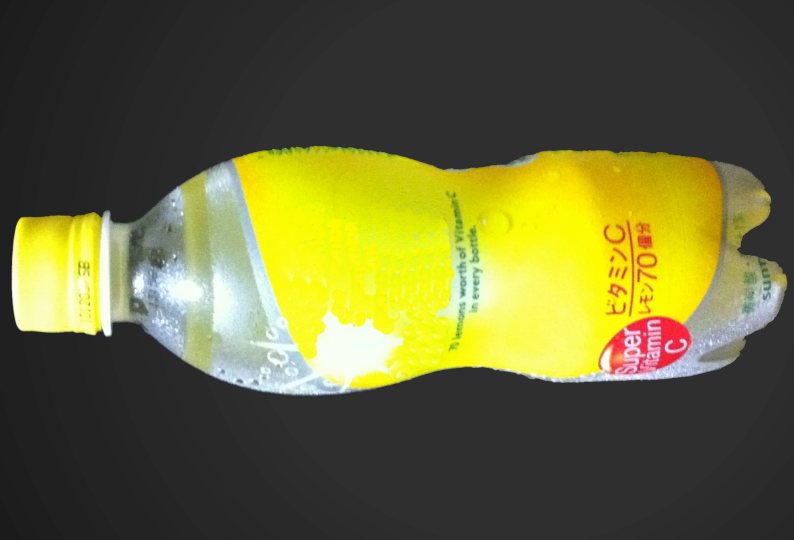 If you tap this PET bottle image, sounds are changed by above MODE, Tapping Object.
And sounds are changed by tapping position on this image.
Upper section is more big tapping sound (Velocity 6 levels),
and horizontal section contains cap, upper, middle, lower, bottom.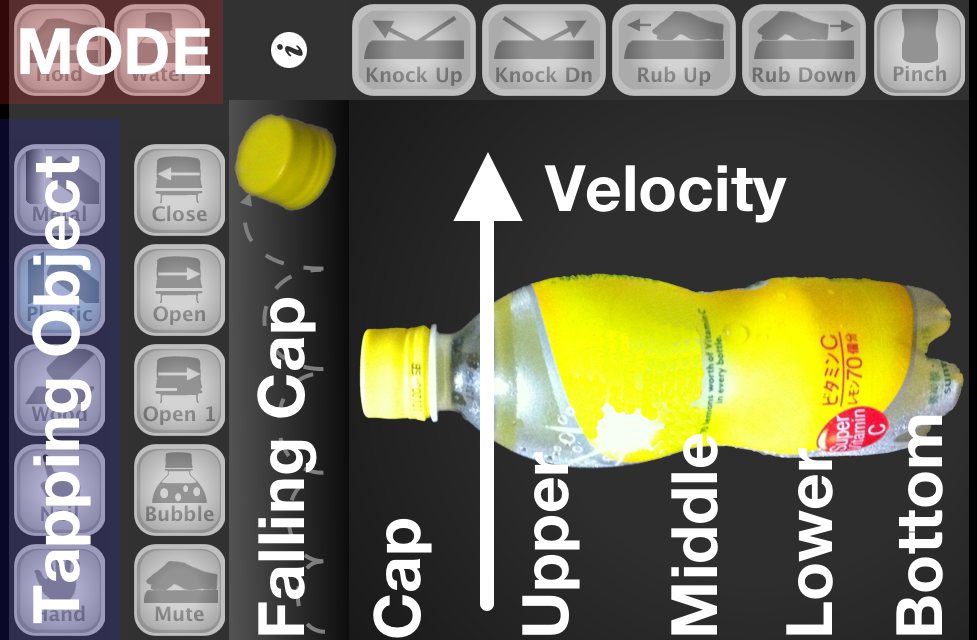 Falling Cap : Upper section is a sound falling cap from higher place. (6 levels)
Other Sounds
These are constant sound (no affected MODE, Tapping Object).
Mute : Mute by Hand touching. Played touching noise.
Bubble : Play deflated soda sound, when you open cap first time.
Open 1 : Play unique sound at opening cap first time.
Open : Revolve cap to Open.
Close : Revolve cap to Close.
Knock Up : Play knocking up sound.
Knock Dn : Play knocking down sound.
Rub Up : Play rubbing up sound.
Rub Down : Play rubbing down sound.
Pinch : Play pinched bottle sound.
Tips
1 ) Mute Technics
Sound Engine play sound after stopping previous sound (without tilt sound in water).
It means you can stop current sound by tapping.
Especially "Mute" sound is useful, because let your play be rhythmic by making a break.
Use "Mute" actively
You can make groove by cutting long sounds like "Bubble" at various timing.
Use "Mute" passively
You can cut tail noise as unwanted sound. It'll be include acoustic reflected sounds of water, wood, plastic and metal.
2 ) Water Tilt
Please lock Rotation in Control Center when you use tilt function. You can set Landscape Left or Right for stable performance.
If you put your device on your knees, you can play tilt sounds with taps easily.
3 ) Use over 3 fingers
Please set Home Screen & Dock > Multitasking > Gestures to OFF in Settings app, If you use over 3 fingers on iPad. You can concentrate on playing PET Bottling.
In iOS 12, General > Multitasking & Dock > Gestures in Settings app.
4 ) External Idea
When you play live or record, if you set your Mac/PC's DAW to recording mode, it is good and practical idea.
Because you can use various effectors for designing your PET Bottle sounds.
Info View
Recorder, Setting, Help and more.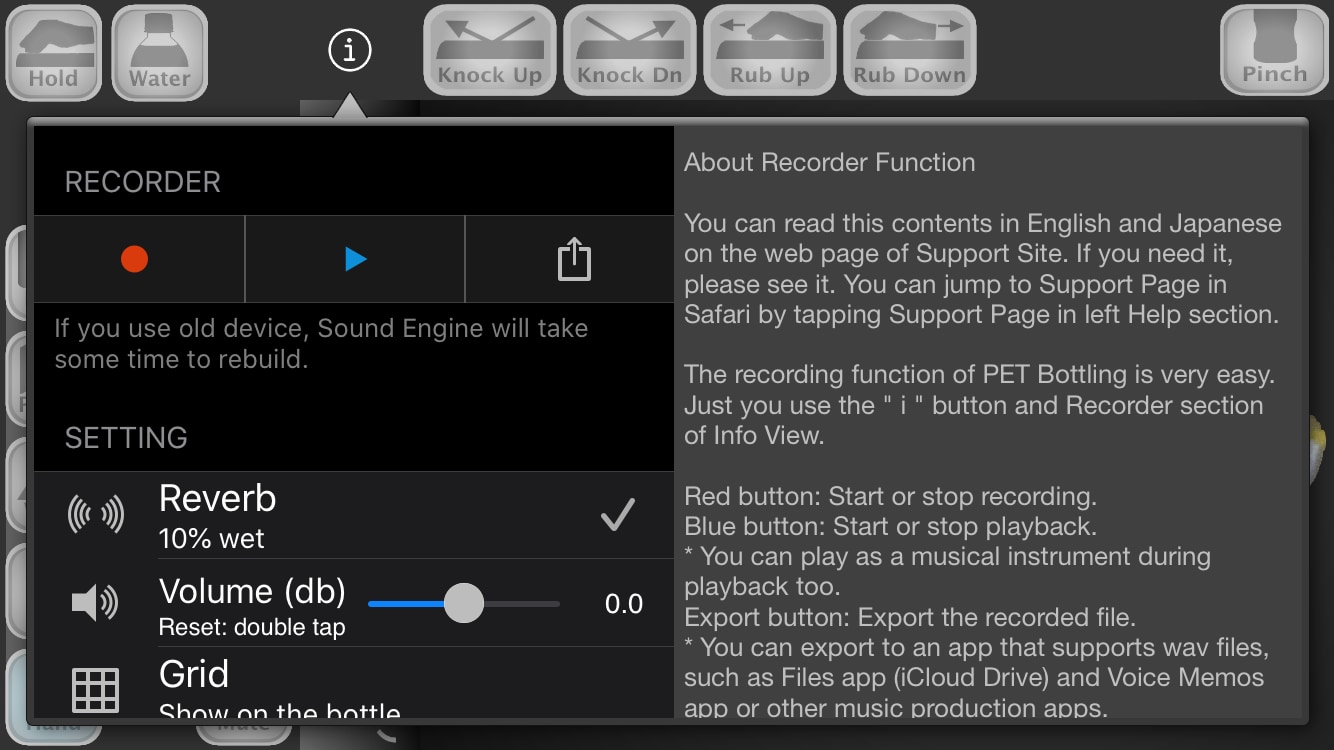 Reverb is normally 10%. If you'd like to use other app's reverb, you can set it to OFF.
Volume is 0.0db basically. You can change from -12db to +12db. In situations where the sound of other apps is loud, it will be easier to hear your performance on PET Bottling if you increase Volume.
If you double tap Volume slider, you can set volume to default value immediately.
iPad screenshot
Following screenshot is PET Bottling on iPad with Grid and Indicator.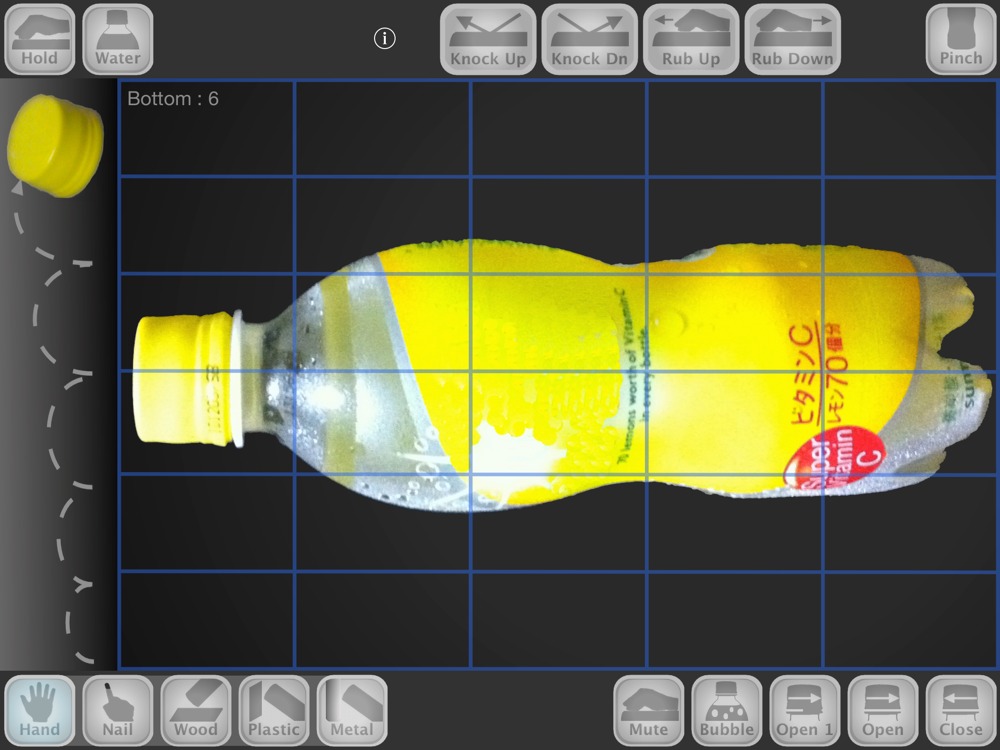 Record
Recorder Function
The recording function of PET Bottling is very easy.
Just you use the " i " button and Recorder section of Info View.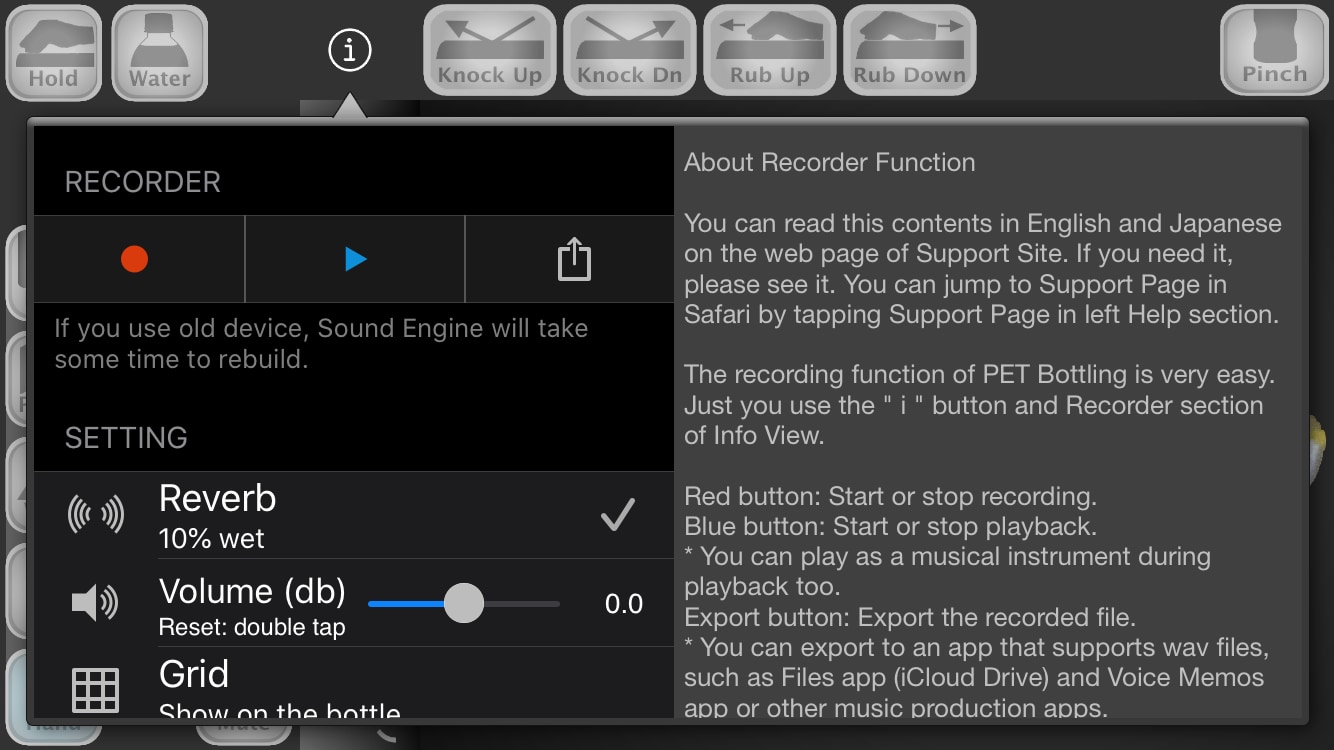 Red button: Start or stop recording.
Blue button: Start or stop playback.
* You can play as a musical instrument during playback too.
Export button: Export the recorded file.
* You can export to an app that supports wav files, such as Files app (iCloud Drive) and Voice Memos app or other music production apps.
Above is all for usage. It is very easy.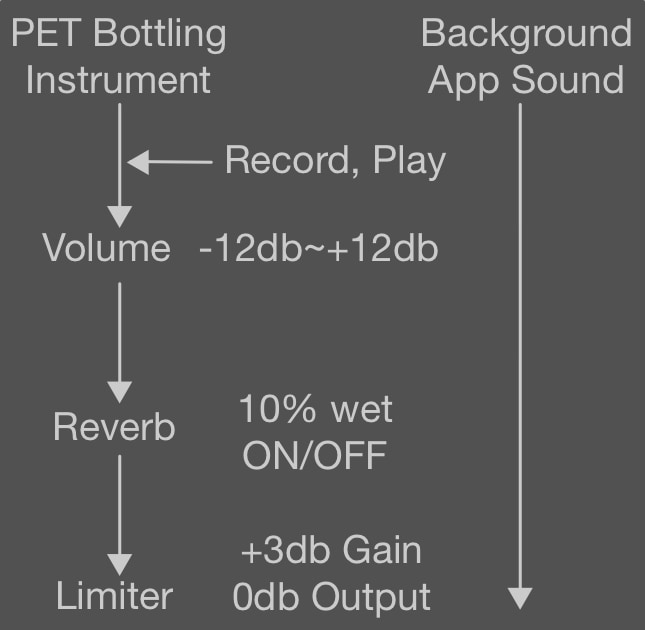 From the beginning PET Bottling can play while playing the sound of other apps in the background.
Recording function was added in Ver 4.
You can record your performance and load it with other apps or give it to someone.
For example, following is a good idea.
Export your making sound file to Voice Memos app by a music production app.
Record your performance with PET Bottling while playing it by Voice Memos app.
Export recorded wav file to Files app or another storage service app.
Import its wav file to you music production app.
You can skip 3. if your music production app supports importing wav file directly.
As above figure, Record / Play (Playback) is in front of Volume. This captures your performance exactly.
Please set Reverb to 10% and Limiter to + 3db, if you want the same sound as PET Bottling on your music production app.
And if background sound is too loud, it's best to reduce the sound volume when exporting it with music production app, but if you can't do it, don't worry.
By simply increasing Volume of PET Bottling, you will be able to play easily.
Since Volume doesn't affect your recording, you don't have to worry about too loud when you export your performance.
Although PET Bottling is equipped with a recording function, it does not disturb the your performance.
All you have to do is avoid the " i " button.
And, despite the added recording capabilities, PET Bottling is very stable and does not overload the device.
Also you can export to a wav file that is guaranteed to work in the future, so you don't have to worry about losing your performance someday. This will give you a great deal of peace of mind.
Workflow Tips
When you export a piece of sound by a music production app, it may be useful to have a sound with sufficient beat sounds in front.
Also, when you record your performance by PET Bottling, it is convenient to tap the beat several times at the same timing.
After importing into a music production app, there is some beat sounds before the sound you needed.
You can easily move to the position of the sound that should be based on that beat.
You can check GarageBand Workflow Sample from here. There are many screenshots.
Enjoy your Percussion Life! :)