Chord Scale Bundle has updated for improving text handling includes Chord Name.
Chord Scale Bundle が Chord Name を含むテキストの扱いをアップデートしました。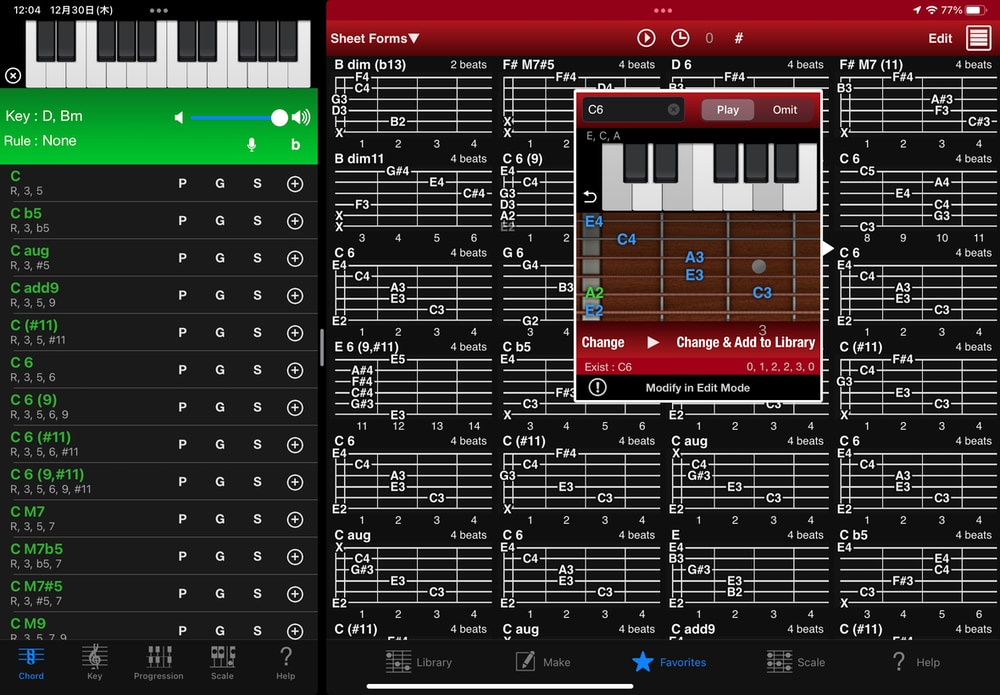 Common Changes
Expanded expression of Chord Name search engine. Now supports major, maj, Δ, minor, min, – for M or m.
(Limitation: always "+" is recognized as "#". And "Root #5" prefix is recognized as "Root aug" prefix.)
Changed all text field settings for usability. Now Auto Correction and Spell Checking to OFF. It'll support better experience of inputting Chord Name. Unwanted system menus are no longer displayed.
Chord NOTE 7.9.2
Fixed an issue that #5 of aug was mistaken for 6 in some cases.
Guitar Kit 7.9.2
Fixed an issue that the display at the bottom of Direct Menu of Sheet View in Favorites Tab would be cut off in some cases.
Please download now!
https://therootage.com/iphone/
ーー
Common Changes
Chord Nameの検索エンジンがいくつかの表現を拡張しました。現在major, maj, Δ, minor, min, – をMもしくはmとしてサポートします。
(なお、"+"は常に"#"と認識されます。また、"Root #5"で始まるコード名は常に"Root aug"と認識されます)
すべてのテキストフィールドの設定を変更しました。Chord Nameの入力の効率化のために、Auto Correction と Spell Checking はOFFにしました。Chord Nameを入力するのを邪魔していたシステムメニューはもう表示されません。
Chord NOTE 7.9.2
いくつかのケースで、aug の #5 を 6 と間違って計算していた問題を修正しました。
Guitar Kit 7.9.2
FavoritesタブのSheet ビューのDirectメニューの下部が表示されないことがある問題を解消しました。
ぜひダウンロードしてください!